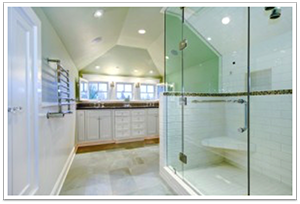 The type of frameless shower curtain, shield, or door you install can make a big difference in the look of your bathroom.
Here are some traditional options and a couple of unusual ideas you may not have considered:
Vinyl Curtains
Vinyl curtains are an inexpensive option. Depending on the design you choose, they can make a conservative, bold, or whimsical statement. Vinyl curtains do have drawbacks though. Many people find them annoying because the shower curtain needs to hang inside the tub to prevent water from escaping. And when the vinyl clings to you it can make you feel claustrophobic.
In addition, vinyl curtains are prone to mold and mildew. Continue reading Frameless Shower Door Alternatives →
Follow and Like Alamo Glass & Mirror