There is no right way to decorate a bathroom nowadays. Homeowners are choosing to follow their own instincts when it comes to selecting paint colors, wallpapers, and tiles.
There are some trends of course, the shift to letting in as much natural light as possible and using lots of crystal clear glass to filter that light.  With more glass you will actually want less hardware to cover it up. Frameless shower doors are popular for a reason. They suit any decor and can look modern, elegant, fresh, green, bright, edgy, or retro.
The Eco-Friendly Palette
If you are going for an eco-friendly bathroom then nature influences all design choices from the ceiling to the floor. No artificial, entirely man-made materials need apply. Marble, stone, and metal are often the go-to materials for countertops and sinks. Dark wood flooring once an unusual choice for bathrooms is becoming popular and offers a dramatic contrast when paired with white or cream colored walls. An eco-friendly palette works well with a textured glass shower enclosure. There are numerous textures which recall nature–such as bamboo or forest inspired textures or rain or storm finishes.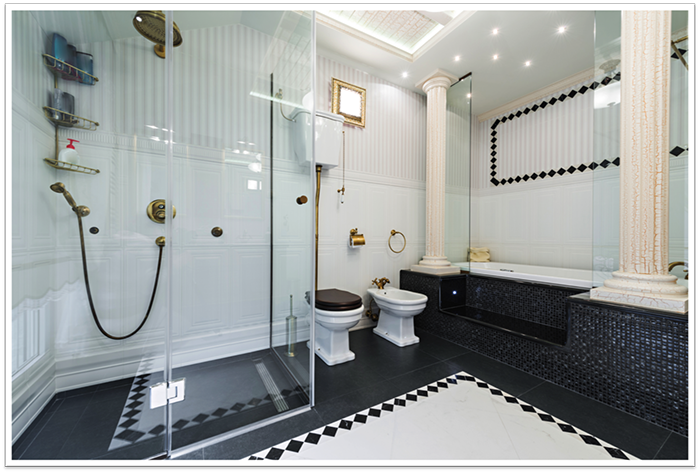 The Sunny Palette
This palette takes advantage of big windows which allow the sunlight to pour through. The sunny palette can range from a pale golden hue to canary yellow. This palette is playful and cheery. Stripes are a common design element in this decor scheme. They can be painted on or included in a wallpaper design. The yellow can be limited to the wall paint or be reflected throughout the bathroom; including the tiles and countertops. The sunny palette can be echoed in the frameless shower door, too. You can choose tinted glass which will suit your bright and friendly bathroom perfectly.
The Elegant Palette
An elegant palette relies on subtle, restrained color choices. Subtle creams, whites, soft grays or pale beiges dominate this color scheme. These tones are often paired with pale or slate blues. For more contrast a couple of walls may be painted in a darker shade. Accessories may be less conservative and more ornate such as a crystal chandelier, antique sconces, brocaded curtains for the windows, gold-veined marble, and baroque or Venetian mirrors. A crystal clear untinted frameless shower door suits this decor to a T.
The Retro Palette
Retro palettes can make your bathroom unique. Consider the turquoise of a 1950's convertible paired with flamingo pink. Translucent turquoise or pink vessel bowls are available for your sink stand. Add an old-fashioned standalone tub, a pink toilet and a fuzzy pink rug and you will suddenly find yourself nostalgic for the wholesome '50s.
Another popular palette may owe it's revival to the The Great Gatsby. The 1920's and 1930's was the period of Art Deco colors; cool blues, muted oranges, and metallics like pewter and silver. Art Deco is for the brave, it requires bold, geometrical designs and accessories. A bronze tinted glass for your frameless shower door works perfectly with this color scheme.
We invite you to check out our Dallas, Texas showroom where we have glass to fit any color scheme you can dream up.

© Alamo Glass & Mirror Company
Residential & Commercial Glass Products & Services in Dallas, TX
Award Winning Service Since 1943. Call for a Free Quote Today – (214) 821-2886 or submit you questions or comments below and a specialist will be in contact with you shortly.