Mirrors aren't just for indoor decor anymore. Unusual Mirrors are showing up outside, in gardens everywhere, reflecting statuary or a pond, or a profusion of flowers. A mirror is like a magical portal inside your garden.
It makes the perfect addition to all styles of landscaping, from the traditional English garden, to an exotic cactus garden. Unique doors, antique frames, and old windows are being used to showcase the mirror.
A garden mirror makes a great do-it-yourself project. If you enjoy antique shopping you can find the perfect frame for your mirror. Because the mirror will be propped outdoors you will want a distressed wood framework. These picturesque pieces look particularly fitting in quaint flower gardens. Consider scouring garage sales and thrift stores for a latticed window or a rustic door.
Once you find the perfect frame, you can replace the existing glass panes with mirrors to create a magical reflective surface. A well-chosen frame should enhance the mirrors. Adding embellishments will make the piece even more eye-catching. Stenciling and crystals and faux gems will add sparkle and whimsy. A string of sparkling lights draped around the frame can add glamour for evenings spent in the garden.
You don't need to go big. A cluster of small, framed mirrors in a mix of styles, can add charm. Unlike a large mirror, which can be propped, you will need something to hang this eclectic arrangement of mirrors on, such as a wood fence.
Miniature Gardens Fit for Magical Creatures
Miniature gardens, which incorporate fantastical, idyllic elements, are becoming a popular hobby. Gift shops and nurseries are carrying tiny houses, furniture, tea services, among many other items, which are suitable for tiny creatures such as fairies and gnomes. Small mirrors placed strategically can double the fun.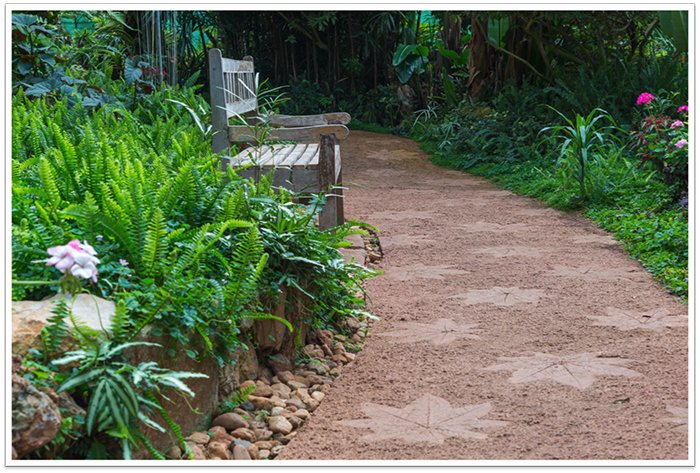 Improperly Placed Mirrors May Present a Fire Hazard & Endanger Birds
Putting a mirror in the garden requires some thought. You will need to consider how the sun will be striking the surface. Concentrated heat bouncing off the mirror may present a fire hazard, particularly if you have dry vegetation around. Also, if the sun reflects back at your guests and they find themselves squinting against the brightness, your garden parties will flop.
Outdoor mirrors present a particular danger to birds. Birds may mistake the reflection for reality and fly right into the mirror. One option is placing the mirrors lower to the ground out of birds' flight paths. Placing stickers, decals, and stencil artwork on the mirror's surface can prevent birds from crashing into the mirror.
If you think your garden could use something bright and magical to spruce it up consider a mirror. We invite you to visit our Dallas showroom. We have a variety of mirrors to show you from the glamorous to the quirky.

© Alamo Glass & Mirror Company
Residential & Commercial Glass Products & Services in Dallas, TX
Award Winning Service Since 1943. Call for a Free Quote Today – (214) 821-2886 or submit you questions or comments below and a specialist will be in contact with you shortly.