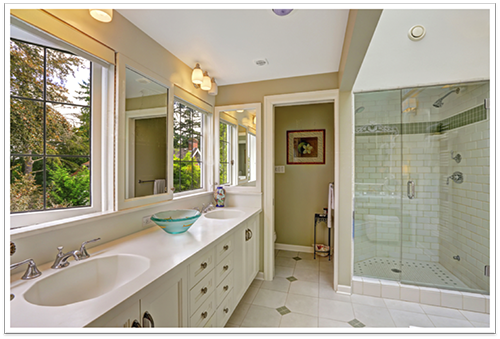 Visitors to our Dallas showroom who are in the market for frameless shower doors often ponder this burning question: is a pivoting door or a sliding door the best option?
Here are some helpful facts to help you decide.
Pivot Shower Doors
A pivot door is one in which there are hinges and the door swings out to open. Some larger showers have a double door entrance. A pivoting door obviously requires room for it to open, so if you are working with a small or cramped space then this type of door will probably take up too much precious room.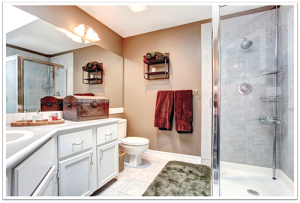 A pivoting door can be part of a frameless shower doors since it can be mounted with very little hardware. On a true frameless shower door, the hinges are the only hardware needed to secure the door. The hinges are available in a multitude of metallic finishes or accent colors.
On a semi-frameless, which is meant to give the illusion of a frameless shower door, there is more hardware required, but for the illusion to work the framework needs to be practically invisible to the eye.
Besides offering the brilliance of nearly unobstructed glass, a frameless pivoting door is easier to clean. Because there is no metal framework to trap gunk or hold moisture, mold and mildew are far less of a problem.
Sliding Shower Doors
A sliding door is the perfect choice for a small bathroom where every bit of space counts. You may be able to save even more room by building a corner stall. Though it's true that most corner stalls have a swinging door, there is a trend toward circular stalls, or more accurately half-circle corner stalls which utilize a double sliding door. The doors curve with the unit, which allow them to slide in a channel at the base, just like a conventional stall.
Even if a sliding door is said to be frameless it requires more hardware than a pivot door. A manufacturer may call a sliding door frameless when in actuality the only thing frameless are the edges of the actual doors. The rest of the shower is framed like a conventional sliding unit, with metal sliding channels on both the top and bottom.
Since the doors are basically sandwiched when they are opened, water can get trapped between them creating a humid condition which can lead to mold and mildew. In addition, the metal channels can catch soap and shampoo gunk. These narrow channels are difficult to clean.
Door-less or Panel
Of course, a shower without doors would be the easiest to clean. But not everyone has the space for a deep walk in shower. A frameless glass panel to prevent water from splashing on your tile floor provides a very modern look.
Consider adding a colored glass panel in amber, smoky gray, bronze, or crystalline blue. These colors can enhance or reinforce a color scheme and add a touch of elegance to your bathroom.
Whether you choose a sliding or pivoting shower enclosure, or an ultra-modern glass panel, our Dallas glass showroom offers an unsurpassed selection.

Alamo Glass and Mirror is a full service residential and commercial glass company. We have an extensive inventory of glass and glass related products.
© Alamo Glass & Mirror Company
Residential & Commercial Glass Products & Services in Dallas, TX
Award Winning Service Since 1943. Call for a Free Quote Today – (214) 821-2886
Follow and Like Alamo Glass & Mirror