As a homeowner, the frameless shower door, shield, or shower curtain you install can make a big difference in the overall aesthetic and feel of your bathroom.
Here are some traditional options and a couple of unusual ideas you may not have considered for your bathroom:
Vinyl Shower Curtains
Vinyl curtains are an incredibly inexpensive option that works for all shower/tub combinations. Depending on the design you choose, they can make a conservative, bold, or whimsical statement that matches perfectly with your decor. Vinyl curtains do have their drawbacks though.
Many find them annoying because the shower curtain needs to hang inside the tub to prevent water from escaping onto the floor. And when the vinyl clings to you it can make you feel claustrophobic.
In addition, vinyl curtains are prone to mold and mildew.
Cloth Shower Curtains
Cloth curtains are the elegant alternative to traditional vinyl curtains. They come in an assortment of fabrics and colors to match your taste and budget. Some are made to repel water, but others will require a vinyl liner in addition to the cloth curtain.
Since moisture collects in the folds of the fabric they will need frequent washing to prevent mildew. So keep that in mind when considering cloth shower curtains.
Glass Blocks
Glass blocks can be used as a stylish water barrier wall. Blocks are fairly versatile as you are not limited to straight lines and sharp angles. A glass block wall can be constructed to curve around the shower for a unique shape. Glass blocks come in a variety of colors that will work well with your decor, and geometrical patterns can be created using different colors.
There are custom made blocks available which, when assembled, create an eye-catching mural. A popular trend is to have a landscape painted on the block wall, basically replicating the view from a large panel window.
The mural can be full color, or for elegant simplicity, the image can be etched in the glass for a frosted white design. Nature-inspired designs, such as plants and trees work particularly well for this frosted white on clear glass look.
Glass blocks are best suited for a fairly spacious bathroom since the blocks themselves are chunky which makes for a thicker wall than a frameless shower door.
In addition:
You will need more square footage to hold the stall itself since a shower that is not fully enclosed requires a deep stall to prevent the water from spraying all over the bathroom floor.
Tub Shield
These are more common in Europe and are starting to become popular in the U.S. These are perfect for walk-in showers against a wall which do not require walls on all sides. The shield or panel of glass is affixed to the tub to prevent water from splashing on to the floor.
This could be a great cost-saving option if you were considering ripping out a tub in a remodel to create a full walk-in shower.
Folding Shower Screen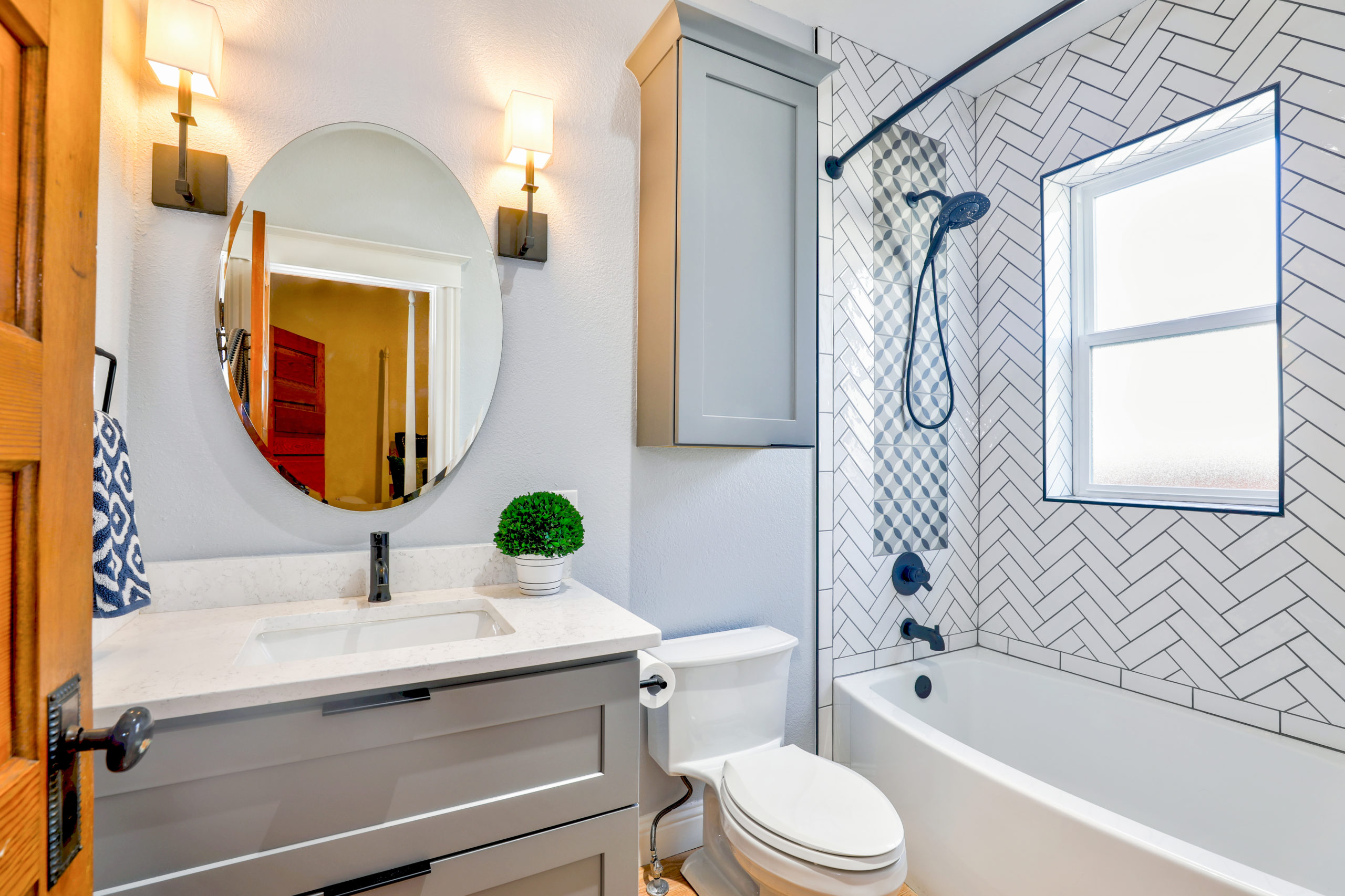 Glass folding screens make for innovative frameless shower doors. They are a compromise between shower curtains and glass doors. Though they are quite common in some European countries, these doors haven't caught on in a big way here yet, so availability may be limited.
These doors have approximately 4 to 8 panels of safety glass-framed in a variety of finishes such as stainless steel, chrome, or aluminum. When the door is not in use it can be folded back so that it fits snug against the wall. Unfortunately, because of the constant folding and unfolding the seals between the panels can break down causing leaks.
Frameless Shower Doors
We're probably biased because we specialize in frameless glass shower enclosures, but we think that a sleek, frameless shower door with its minimal hardware can't be beat. We believe it's the best choice to update your bathroom and ensure you increase the value of your home should you want to sell in the future.
But don't take our word for it, visit our Dallas showroom and see how a frameless shower door can completely change the aesthetic of your bathroom.
---

Alamo Glass and Mirror is a full service residential and commercial glass company. We have an extensive inventory of glass and glass-related products.
© Alamo Glass & Mirror Company
Residential & Commercial Glass Products & Services in Dallas, TX
Award-Winning Service Since 1943. Call for a Free Quote Today – (214) 821-2886