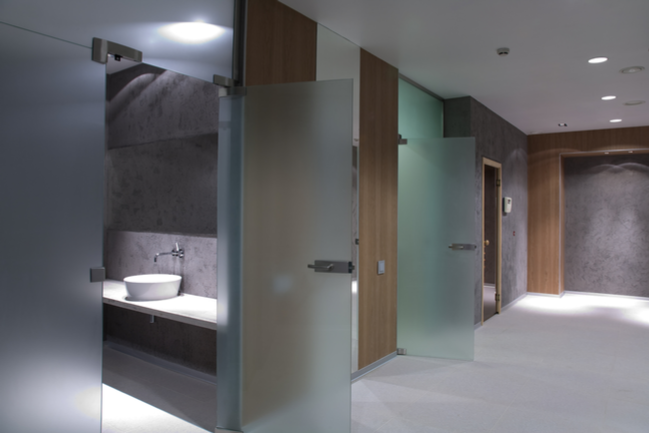 You don't often hear about privacy glass when it comes to residential bathroom designs, but you should! Privacy glass is ideal for making a high-traffic bathroom more functional and private. While clear glass is favored for master bath shower enclosures, frosted glass is preferable for a guest bath or restroom shared by siblings.
Let's look at what exactly is privacy glass and how it can improve the look and feel of your bathroom. 
What exactly is frosted glass?
Acid is applied to glass to etch its surface and give it a "frosty" appearance. This frosted glass offers more privacy than other glass door alternatives such as patterned or tinted glazing thus is often referred to as privacy glass.
Moreover, this frosted glass features a timeless and classic look that can coordinate with many types of décor.
If you're a homeowner don't be scared off by the bad frosted glass doors we remember in the past. Today we can create frosted glass to meet your exact decor and needs. Whether the bathroom in question is modern, transitional, or traditional, a frosted glass shower door will be able to fit in harmoniously while adding clean lines and subtle elegance.
What are the benefits of a frosted glass shower door?
With a shower encased in clear glass, one child can brush her teeth while the other showers or one can comb his hair while his brother showers, thus making the space more practical for siblings trying to get ready for school at the same time. 
Guest bathrooms also see multiple users at times, especially when relatives stay at your house for a family wedding or reunion. Again, privacy glass on the shower stall will make this space more functional and user-friendly so your guest feel comfortable. 
Are there other ways frosted glass can improve a bathroom?
Frosted glass can also be used to add privacy to the toilet area, further boosting the room's functionality for multiple users. This is great if your home as limited bathrooms. For example, in a smaller home or historical home where there was often one bathroom.
A screen or half-wall made of frosted glass can be installed to partition off part of the bathroom for added privacy.
This secluded "water closet" not only gives privacy to the person using the toilet but even brings the bathroom into sync with today's interior design fashions that favor blocking the commode from sight.
Absolutely! Ordering a frosted replacement unit for your bathroom window allows you to enjoy the benefits of natural light without worrying about privacy issues. Understand that you probably don't need to replace the whole window to achieve this.
Rather, glaziers can remove select panes and replace them with the appropriate panels of frosted glass. Replacement glass options typically even include energy-friendly upgrade options such as multiple panes and argon gas.
Are there any other ways to utilize frosted glass in a bathroom?
Last but not least, frosted glass shelves can be added to your bathroom to complete the look and make it more organized and visually appealing. This shelving will tie in with the bathroom's other privacy glass features, and it will allow you to more easily keep the bathroom neat and tidy.
Open shelving is the perfect storage solution for frequently used bathroom items such as bath towels and even toilet paper!
As you can see privacy glass has come a long way since the 1980's bathrooms we all associate with this image. You can create a sleek and elegant bathroom that will provide you with added privacy in a high-trafficked guest bathroom or if you have only one bathroom in your home.  Consider upgrading your bathroom with privacy glass today! 
---

Alamo Glass and Mirror is a full service residential and commercial glass company. We have an extensive inventory of glass and glass-related products.
© Alamo Glass & Mirror Company
Residential & Commercial Glass Products & Services in Dallas, TX
Award-Winning Service Since 1943.
Contact us by filling out our contact form or call for a Free Quote today – (214) 821-2886