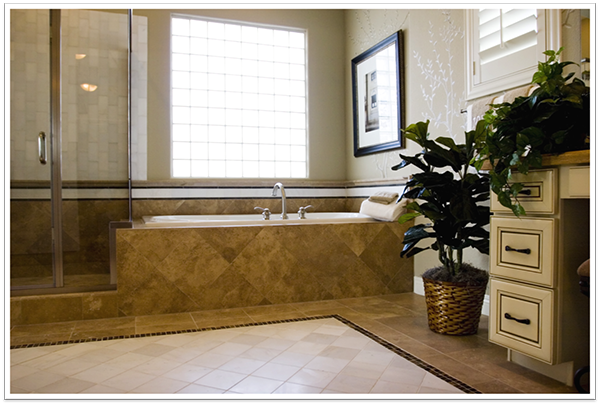 Discover some tried and true design tricks to prevent headaches during your next bathroom project.
What is the average amount of space required for a toilet? How much is a basic bathroom remodel? How do you pick out the right vanity? If your answers to these questions are blank or some combination of "What?" "Huh?" and "Um … ," don't worry. Many homeowners find themselves in your same position.
Considering all that goes into a bathroom remodeling project, unless you're a professional doing it every day — or a homeowner having completed it a few times —all the specific details, technical issues, available options and choices may begin to sound like they're in a language you are unfamiliar with. Some basic preparation for the project will help you conquer the frustration.
Like preparing for a test, when you are embarking on a bathroom remodel project, a strong knowledge of expectations and considerations will make the difference between an ongoing nightmare ending in a bathroom that you aren't really happy with or the satisfying experience creating the room of your dreams. The following collection of guidelines taken from popular bathroom remodeling articles on Houzz can help you ace your bathroom remodel 'test'. It pays to prepare.
Cost
Crucial to your remodel project, will be a budget. Decide how much you can afford to spend first. This will provide you with a guide for each step in the process. Take into consideration the size of the room, materials needed, quality of materials, labor you can perform, labor that will need to be performed by others and where money can be saved. Get estimates from experienced contractors with references. Have a bottom line cost, and stay within the parameters.
Toilet Position
Consult an experienced bathroom designer professional for effective ideas. Simple considerations such as where the toilet should be placed is an important decision. Most bathroom doors are left open, when not in use. Would you want the toilet to be the focal point in perfect view when a guest walks by the bathroom? If you are looking for a spa-like presentation you should consider placing the john in a less conspicuous area. A designer can assist you with these important tips.
Vintage Appeal
The older your home is, the more problematic a remodel could be. Replacing wall tiles could be impacted by a concrete or wire lath base. Removal of vintage tile could exceed your budget dramatically. You may want to consider maintaining the original tile and use the funds for another area such as fixtures. Vintage tile can be just as dramatic as new tile.
Lighting Goes a Long Way
Since most bathrooms comprise a small area, lighting is an important factor. Using decorative style lighting, layers of task, accent mirrors can help with the lighting. Light-reflecting clear shower doors are also very popular.
Bathroom Dimensions.
Familiarize yourself with the dimensions of your bathroom, and key measurements for the bathtub, toilet, and vanity. This will help for accurate placement, and will provide for maximum utilization of available space.
Sink Height
Decide if you will want a bowl type of sink that sits on top of the counter which has become very popular, or a sink that sits inside of the counter. This will help you decide the height of your counter top, and will also help determine the height of your faucets.
Corner Sinks
Corner-style sinks are very desirable in small areas, with impacts from swing-style shower or entry doors. Note how your doors swing, and use this information to decide if you will need a corner sink.
Small Bathtubs
Manufacturers have developed smaller sized bathtubs to accommodate small bathrooms. Don't rule out a bathtub until you have checked out these smaller styles.
Vanity
Vanities are meant to be functional and attractive. Having one too large could interfere with being able to get into your bathroom while getting one too small could impact your storage needs. Mirrored cabinets above the vanity can assist with storage, and enhance the lighting also.
Spend a Little More
A good designer tip is to invest in a few higher end types of items to enhance your bathroom's presentation. The feeling of luxury can occur from tissue holders to fixtures and strategically placed mirrors or wall coverings. Keep your mind open to saving on some items, to spend more on others. Sometimes this can be accomplished by not affecting the bottom line of your budget.
Tiling
Be careful when purchasing tile. Some tile is measured according to European sizes, millimeters.  They do not coincide with US measuring. The wrong size can affect the grout, and plumbing.
Tub to Shower
If you are a shower enthusiast and have a bathtub that you don't really use, consider converting the area to just a shower which can open up your bathroom more spaciously, and utilize the same basic plumbing.
Do it Yourself Toilet Installation
You can potentially save on labor costs, by installing the toilet yourself. As long as the plumbing lines up accurately, this process can be done in about an hour.
Drying Out
A critical element to your bathroom is venting adequately to reduce moisture and the potential of mold and mildew. Windows and vents can be used to assure that your bathroom is moisture free.
Hardwood Meets Tile
Most bathrooms have a tile floor, while most other rooms in the home have either carpet or hardwood. The area of transition from the outside of the bathroom to the inside of the bathroom requires thought and planning. As with most of the other areas of the bathroom, some pre-planning will save headaches, and extra expense.

Alamo Glass and Mirror is a full service residential and commercial glass company. We have an extensive inventory of glass and glass related products.
© Alamo Glass & Mirror Company
Residential & Commercial Glass Products & Services in Dallas, TX
Award Winning Service Since 1943.
Contact us by filling out our contact form or call for a Free Quote today – (214) 821-2886