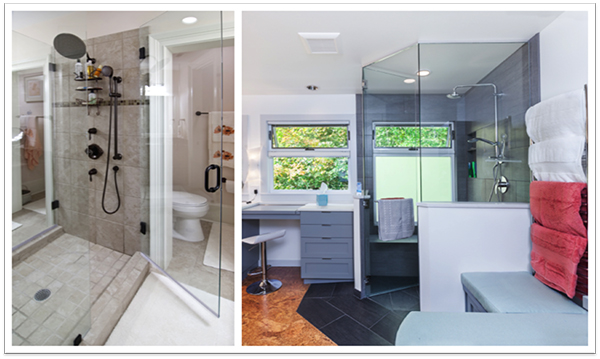 Remodeling magazine has determined that the mid-range cost to renovate a bathroom nowadays including tile, vanity and toilet is in upwards of $19,000. It all depends on where you live and the local costs of labor and supplies. If you are in New York City, you could pay as much as $25,000 for a bathroom remodel. The magazine keeps track of the cost of home remodels on an annual basis.
If you want to throw in installing extras such as heated floors, or you are interested in moving fixtures, the initial $19,000 can get pushed up to about $60,000, and in the more expensive cities such as New York City, you could pay as much as $72,000.
With that said, there are avenues available to help you keep the costs of your project down to a more affordable level, and you can do this without forfeiting the style of your room.
Limiting the Use of Tile: Save the Money & Look Just as Good
Pamela Dailey, interior designer located in Beacon, N.Y., reports that tile can be excessively expensive, and also the labor to install the tile. Try limiting the tile to an area such as the shower. She suggested laying a subway type tile in a staggered pattern from the floor to the ceiling for a good affect.
Polished aluminum trim by Schluter can be used in place of border tile for edging. An eight foot long strip is available at Home Depot for about $8, and your shower will have a clean and timeless appearance.
Be on-the-lookout For Items Discontinued or Overstock
Stone fabricators such as SMC Stone in Greenpoint, Brooklyn, and BCG Marble and Granite Fabricators in Hackensack, N.J., offer their customers remnants of granite, that can be used in place of an entire piece purchased for ten-fold the amount of a remnant.
The same holds true when picking out and purchasing tile. Dawn DeLuca, working at Camille Rossy Cabinetry and Design suggests that you search for item closeouts at stores that include Tiles Unlimited in Glendale, Queens, and Tilebar.com. You can get 80% off your tile when they are either discontinued or overstocked.
Be bold when shopping for tile and check into closeouts at remodeling stores. When you happen to see a display being modified in a showroom, check into display tile. These are usually offered at big discounts. You may also find vanities and toilet bowls among the displays that are being changed, offered also at a huge discount.
Surplus items may also be available on Craigslist. Recently a listing offered 84 Bianco Carrara marble subway tiles for $50 stating that it was being sold due to a measurement error in the original purchase.
Consider Removing the Medicine Cabinet
Kelly Giesen, founder of Kelly G Design in Manhattan says "I opt, whenever possible for a decorative mirror instead of a medicine cabinet. A mirror adds style to the space and opens up a wide choice of price options. You can also go as big as the room will support, so the space ends up looking bigger and grander."
Take the Time and Shop Local Flea Markets
Many treasures can also be located at flea markets. Ms. Giesen located an iron table for $125 and is planning on using it for a sink console. "The style is unique and special," she reports. "And perfect for a bath without breaking the bank". Always measure first before purchasing items at a flea market. All sales are usually final.
Do Your Homework and Consider Labor Cost
Raf Howery, chief executive of the home-remodeling site Kukun says, "Most people think about saving on material", forgetting that labor will be about 40% of the entire budget for a remodel project. He goes on to say that labor costs can be decreased by "choosing products that do not require a huge amount of installation labor," and offered some good ways to maintain costs at a more manageable level by keeping the overall layout of the bathroom the same.
As a designer at New Life Bath & Kitchen in Santa Maria, Calif, Cindy Albert provided an in-depth example saying in lieu of spending $1,400 on tile for a recent project she had for a bathroom remodel, she spent $2,000 on the purchase of wall panels from Kohler's Choreograph line. Even though the panels cost more, their installation was easier and provided her client with a substantial savings.
When Possible, Avoid Builder Grade Fixtures
Leonard Kady, a New York architect explained that "builder grade" and "contractor grade" are selling terms of very basic fixtures in a product line. Be careful purchasing these grades because you get what you pay for as they are sometimes made with parts that aren't very durable and may scratch or wear easily. Quality may be more expensive initially, but may save money in the long run. Salespeople will let you know the difference between the grades so you can compare. Higher quality items will usually feel more solid and heavier.
It Never Fails: Keep it Simple
More handles and controls in a shower represents more costs. Using a pressure balance valve along with just one handle for controlling the water flow and temperature is cheaper than a thermostatic valve with numerous handles. The installation and separate plumbing for the valves will drive up your labor costs along with the costs for the separate items. In terms of keeping a lid on your overall costs, fewer items are most always better.
Using standard polished chrome is also a less expensive option for bathroom finishes. The Bancroft valve trim and handle at Kohler's in polished chrome can sell for about $244, while the same item in brushed nickel can cost about $355.
Marica McKeel, founder of Studio MM, a Manhattan architecture firm suggested using marble as an accent as opposed to using it throughout the bathroom to achieve the look you want at a more affordable price. When working with a client who just had to have wall-to-wall marble tile at $20 per square foot, she convinced the client to use the marble on the floor and subway tile in the shower thus saving her client "$1,600", and saying "it allowed the marble tile to stand out and become the star of the show."

Alamo Glass and Mirror is a full service residential and commercial glass company. We have an extensive inventory of glass and glass related products.
© Alamo Glass & Mirror Company
Residential & Commercial Glass Products & Services in Dallas, TX
Award Winning Service Since 1943.
Contact us by filling out our contact form or call for a Free Quote today – (214) 821-2886