Why Choose Frameless Shower Doors
Help keep your shower doors bacteria and germ free. The frame is a deposit area for dirt, dust, and a breeding ground for germs. In a frameless shower door, there is no metal area to collect the particles, and your bathroom can be cleaner and free from worrisome bacteria.
The glass area on frameless shower doors is much easier to keep clean with no areas present to collect any sediment.
If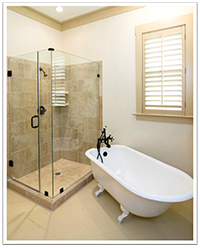 you are looking for a more sturdy shower door, frameless shower doors are known to be stronger than framed shower doors. Many times shower doors don't fit their frame properly. That structural weakness can cause accidents.
Aesthetically, frameless shower doors are more attractive and don't have the metal to detract from their beauty. Made of thick tempered glass, these doors add beauty to any shower area.
Glass without the interruption of metal super-sizes your bathroom. It opens up the area and allows the light in to accentuate your beautiful shower area. You don't need to worry about all of your fixtures matching the metal in the door. Choosing frameless shower doors opens up new avenues for metal fixtures in your shower area.
Choosing frameless shower doors will allow you to have more of a variety of styles to choose from.
Providing service to our customers since 1958, our business is to please our customers. We offer an extensive variety of frameless shower doors, as well as all other glass products for both residential and commercial glass needs. Our products are fully warrantied and we strive for perfection offering excellent customer service.

© Alamo Glass & Mirror Company
Residential & Commercial Glass Products & Services in Dallas, TX
Award Winning Service Since 1943. Call for a Free Quote Today – (214) 821-2886