Replacing or renovating your glass shower doors can seem like a complicated process.
But it doesn't have to be.
The first step is to understand that replacing and renovating your shower enclosure are two different processes. You'll have different choices to make depending on what you need done for your shower enclosure.
Whether you're renovating or replacing, today you'll learn everything you need to know about buying glass shower doors for your shower enclosure.
1. Choosing Your Style – Take a second to analyze your bathroom and figure out what style glass shower door you want and need. If you're just replacing a shower enclosure that's already there, then you will probably keep the same style. You might already have a neo-angle shower or a sliding shower door. However, if you're remodeling, then you can decide what kind of shower enclosure you want from scratch. Maybe you want a corner shower with all the spa amenities. Or perhaps you'd prefer a tub/shower combo. Whether you're renovating or replacing, you can still choose different types of shower doors such as a frameless shower door or a framed shower door
2. Measuring Your Shower Enclosure – If you work with a glass and mirror shop like Alamo, they should handle the measuring for you. However, it's always a good idea to have a rough estimate of the measurements before you call a glass company. If you are doing a custom shower enclosure and completely remodeling, you'll most likely be working with a contractor for the measurements and a glass company to design and install your new glass shower doors.
Related: Complete Guide on How to Build a Walk-in Shower from Start to Finish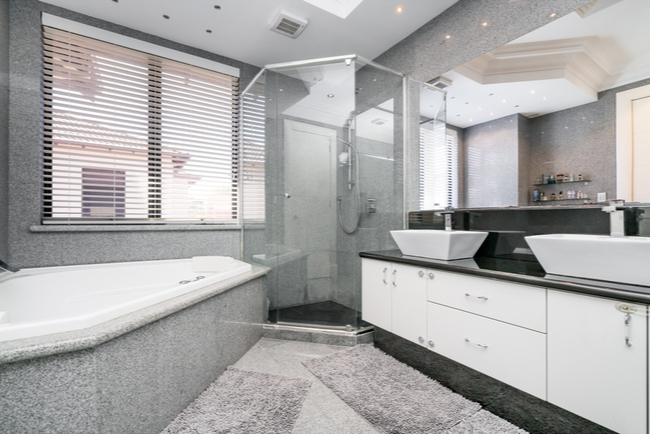 3. Picking Your Shower Glass – Whether you're remodeling or replacing, you'll have to choose what kind of style you want for the glass. This is a fun part of the design process. You can choose clear glass, frosted glass, or even rain/textured glass. Just ask the glass company you're working with what your options are.
Related: Our Favorite Luxury Shower Enclosure Designs
4. Selecting Your Finishes – If you're replacing or remodeling, you'll also need to consider whether or not you want to change the finishes in your bathroom, such as the shower hardware, frames, vanity, faucets, etc. You can match the finishes to the frame on your shower enclosure or vice versa.
5. Adding Special Features – If you're remodeling, then you might consider adding extra elements like a steam shower. You can bring the spa to your shower enclosure and create an oasis at home.
Overall, it's important to work with the right glass and mirror company that can help make your shower enclosure dreams a reality.
Do you live in the Dallas, TX area? If so, we would love to help you find the right glass shower door for you! Call us at (214) 821-2886 to get started.
Alamo Glass and Mirror is a full service residential and commercial glass company. We have an extensive inventory of glass and glass related products.
© Alamo Glass & Mirror Company
Residential & Commercial Glass Products & Services in Dallas, TX
Award Winning Service Since 1943. Call for a Free Quote Today – (214) 821-2886