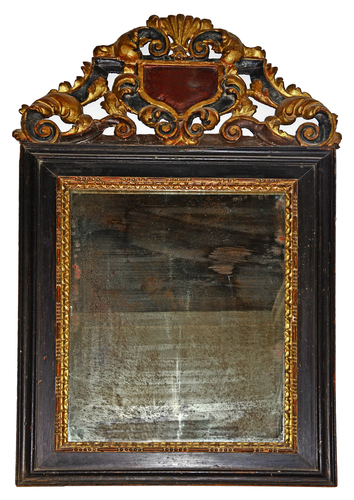 Broken Mirrors
A shattered mirror is supposed to bring seven years bad luck. But some interior designers are laughing at that notion, and using broken mirrors as eye-catching objects.
For the non-superstitious among us, or those who like the thrill of testing fate, a broken mirror can make a stunning wall hanging. The mirror shards refract light in ways that a perfectly smooth mirror cannot. Imagine those chandelier lights reflected back in a myriad of different ways.  And a large shattered mirror would certainly be a conversation piece.
Usually, the mirror is broken quite purposefully and certainly the pieces are not just dangling there, waiting to fall off the wall and possibly cause harm. The shards are secured to a backing with a strong adhesive.
Some designers prefer a mosaic look where the pieces are laid deliberately so they fit side by side. Others prefer a mirror which looks as if someone threw something heavy in anger, with a spiraling out of the breakage from the "eye of the storm".
For those who prefer their mirror in one piece, but appreciate the look of broken glass, a frame made from glittering shards may be just the compromise. Tiny refractive chips or larger chunks of glass can make a dazzling frame.
A glittering tabletop of broken mirror pieces is another option. Mirror pieces can be laid out in mosaic-like fashion and the spaces in between grouted.
Distressed Mirrors
A mirror is usually prized for the quality of its reflection. Nobody wants to look in a mirror and see an unflattering, distorted reflection peering back at them. Most people in the market for a mirror look at the quality of the glass, choosing one which has no visible flaws. Tarnished, warped, or scratched mirrors are usually tossed. But somebody's trash can be another person's treasure. Decorators often use distressed mirrors to complement a room filled with antiques. Distressed mirrors can add a richness and elegance to a room or a nostalgic charm.
If the perfect antique mirror can't be found, it is very common to buy a faux antique frame and distress the mirror by hand. This project is not for the faint of heart. It takes strong chemicals to get that antique look.
A distressed mirror with a favorite, homey phrase painted on its surface is perfect for a country decor.
A tabletop of distressed mirrored tiles can make for a unique dining set. Where a new mirror may be blindingly shiny, an antique mirror table offers a softer shine. An antique-looking table top is perfect for reflecting back the warm glow of candles. A mirrored top looks best as an accompaniment to distressed wood furniture and chairs.
If you are in the mood to try something adventurous and unique with your decor, check out all of our Glass & Mirror services, then come on in to our Dallas showroom so we can help you choose the perfect mirror!