If you're considering replacing your dining room set, or upgrading your existing set, you will want to consider a glass tabletop as the crown for your table.
Made of sturdy glass, these tops not only add to the ambiance of your dining room but are practical as well. Consider the number of times you have had to dust and wax your wood table top. Wood is beautiful, but through years of use, it mars, gets scratched and the sheen tends to disappear.
Then there are the inevitable spills that can permanently damage the wood. If you've ever set a warm dish on wood, you know the results. The wax build-up suddenly turns a white color, and you have another stain to deal with.
On the other hand, glass is durable. No need to worry about spills on your dining room table. A simple clean up with a glass cleaner takes the spot away. No more waxing to bring out the sheen and shine of the wood. Like cleaning a mirror, a few wipes can take away all the spots.
If you have a small sized dining room, glass will open it up. Wood will box it in. Glass will reflect the light from your electrical appliance or windows, wood will inhibit it. It's very difficult to scratch glass, and wood is relatively easy.
For families with children, glass can be as strong as wood, and yet impervious to crayons and milk spills.
Glass has a versatility of being used with virtually any types of styles including traditional, contemporary, modern and rustic. There are no color combinations to try to match.
You can choose to replace your entire tabletop with a beautiful glass table top or add a glass piece to your wood table top for protection and ease of maintenance.
Glass tabletop covers are ideal for coffee tables, desks, and sideboards. Each piece with a glass top will give you ease in cleaning, and will protect your wood.
The overall advantages of glass tabletops are how they can complement your room and add space. They reflect light to beautify your tableware. They are simple to clean and you won't need to use a heavily padded table cloth to protect the surface. Glass tends to be cheaper than wood table tops with a complex set of designs.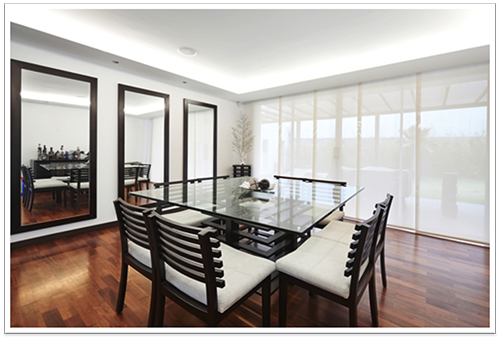 Alamo Glass and Mirror is committed to providing you with the best quality glass products available. We take pride in customer satisfaction and have been doing so since 1943.
Glass furniture tops are one of our specialties. Our professionals can help you choose the item that will meet your needs and beautify your home.

© Alamo Glass & Mirror Company
Residential & Commercial Glass Products & Services in Dallas, TX
Award Winning Service Since 1943. Call for a Free Quote Today – (214) 821-2886 or submit you questions or comments below and a specialist will be in contact with you shortly.