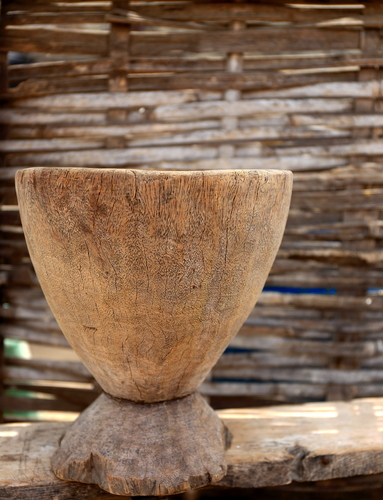 If you are considering a glass-topped coffee table, consider furniture beyond the ordinary. Depending on your budget and creative spirit, you can purchase the components such as pedestals and a thick, tempered sheet of glass, or gather salvaged materials and build your own conversation piece from scratch.
Aquarium
If you like collecting exotic fish you no longer have to relegate them to a wall niche or shelf. Aquarium coffee tables allow you to enjoy watching your fish while you relax on the couch or entertain guests. Colorful fish will make this piece of furniture a show-stopper, and a true crowd pleaser. Friends will be drawn to it.
Another bonus, installing a coffee table aquarium may be good for your mental health. Studies have shown that aquarium therapy can actually help mellow your mood.
Terrarium
Do you have a green thumb? Consider a terrarium table filled with plants and moss. It's the perfect way to bring the outdoors inside. A terrarium table can be one giant terrarium with a hinged glass lid or two terrariums acting as the legs of the table and propping up the glass tabletop. Instead of flowers dying in a vase, consider a living garden ecosystem right there in the center of the room. You will want to ask a plant specialist which plants thrive best in a closed, humid environment.
Driftwood
Everything old is new again. This retro style from the 70s and 80s is back in vogue. With a large piece of driftwood and a thick slab of glass you have the makings of a unique coffee table. The wood is usually used in its natural state, but it can be varnished if you prefer a shinier more polished look.
Another option is to use a tree stump to hold the glass. Like the driftwood, a tree trunk section can be left as-is or it can be lacquered for a glossy finish.
Modern art or sculpture
Table base statuary is also popular. Table pedestals which resemble free-form pieces of modern art are trendy. If you prefer realistic statues, there are numerous subjects such as, mermaids, lions, cupids, and elephants. You can also find replicas of famous sculptures to hold up the glass.
Salvaged building materials
For the perfect rustic base for a glass tabletop, consider distressed wood, old metal cabinets or shelves, discarded signage, and antique fruit or food crates with faded labels.
A glass tabletop is the ultimate way to showcase something unusual or prized. Why settle for a plain old base when you can make your glass table a work of art, or a miniature ecosystem? Come visit our Dallas showroom we have the perfect glass top for your do-it-yourself project.