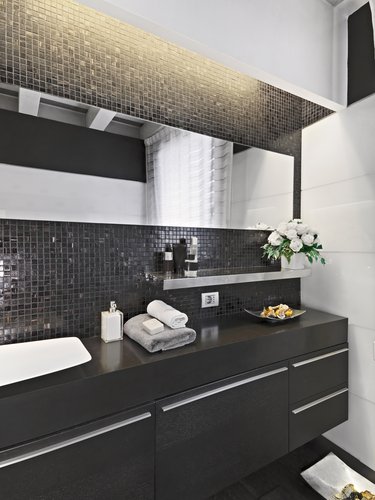 Mirrors are about illusion and brightness. They are a versatile decor element which can bring light and life to any room in the house. They can open up small spaces or make large spaces appear even larger, they can take center stage or serve as a conversation piece. Mirrors suit non-traditional design schemes as well as classical ones. They can be used to enhance a room or displayed as singular pieces of art. Or, if you have collected mirrors in a variety of shapes and sizes, they can be grouped to make an eclectic wall decoration. Candlelight, chandelier light, and diffused natural sunlight are all enhanced when reflected in a mirror.
One of the current trends is to place a very large framed mirror in a living room or master suite. Hanging a mirror of this size can be tricky, rather than chance pulling out chunks of plaster or drywall many people opt instead to prop these monster mirrors against the wall. Frames are chosen to complement the style of the room from ornate baroque to distressed finishes.
Positioning of the mirror is important when you want to capture the sunlight, but don't wish for the light to bounce off and cause your guests to squint. On the other hand, candles can be placed directly in front of the mirror without a problem.
A clever design sleight of hand, is to duplicate the most charming elements of the room. For instance, if you catch the reflection of your garden through the window then guests don't need to be sitting directly across from the window to enjoy the beauty of the flowers.
If you can't find a mirror to fit your individual style you can get one custom made. Funky mirrors can brighten up the interior of your house by adding a bit of whimsy.
Getting Creative with Mirrors
Mirrors can be cut in any shape you can imagine. For instance, teddy bears, butterflies, or a school of mirrored fish can enliven a child's bedroom. Guitars and musical notes work well for a teenager's room. Retro styles fit perfectly over a bar. After all, what is a bar without mirrors? Humorous mirrors are a fun addition to a play room. And elaborate geometric or cubist designs can become pieces of art.
Mirrors can be elegant or they can be campy. You can go large and dramatic and reflect the entire dining table or go small and just accentuate a single delicate vase on the mantel. They are part of the decor of almost every home, from the grandest of mansions to the most rustic of cabins. If you rarely notice the mirrors in your home you might not be displaying them to their best advantage. If chosen correctly, a mirror can be as entrancing as a painting.
Considering a custom mirror? Visit our Dallas showroom to see all the possibilities. What you can envision can probably be created. Tell us what you have in mind and let our craftsmen bring it to shining life.