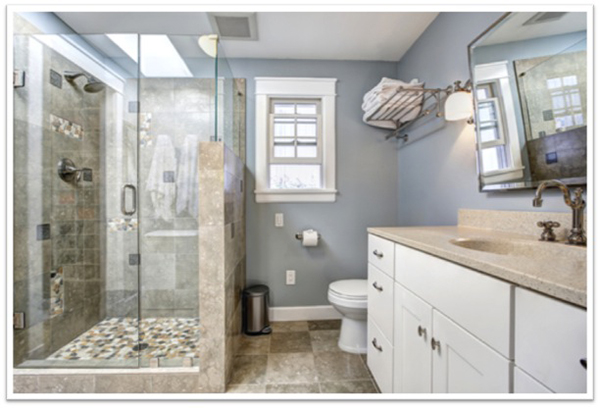 If you are considering a bathroom remodel you will want to think about installing frameless shower doors. Becoming more and more popular, these beautiful doors have revolutionized the look and feel of your shower room. What was once unsightly glass with rusted frames can now be a beautiful area, free of the metal that can be so detracting.
There are many styles and shapes to choose from, or you can have them custom made to satisfy your needs.
Frameless shower doors are easy to clean and will keep that beautiful look for years to come. Their appearance can literally open up a room and allow light in to compliment your shower area and fixtures.
Your room can actually appear larger.
With just the hinges visible, there will be no detraction from your shower tile or fixtures. Frameless shower doors can be installed as a shower door or on a bathtub, sliding closed when needed.
Available in all sizes, designs and shapes, shower doors are a mainstay of your bathroom and will continue to enhance the area for years to come.
It is our ongoing commitment to provide you with the highest quality glass products. Our specialties include shower doors, tub enclosures and mirrors. Our experts will provide you with the assistance you need to beautify your home.

© Alamo Glass & Mirror Company
Residential & Commercial Glass Products & Services in Dallas, TX
Award Winning Service Since 1943. Call for a Free Quote Today – (214) 821-2886 or submit you questions or comments below and a specialist will be in contact with you shortly.