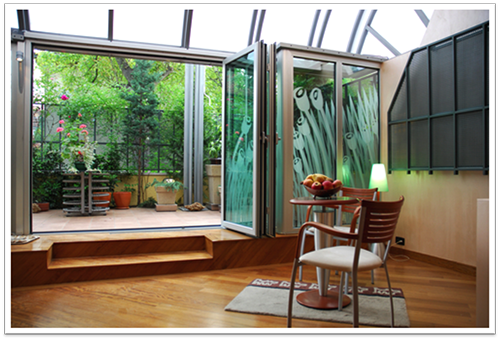 Washington artist and furniture maker Greg Klassen's does it again with a beautiful custom-made glass tabletop.
In the images below you can see how he was able to custom fit blue glass over two pieces of wood to give the appearance of an ocean view.
So much talent in the world today when it comes to art. You may be surprised to know how easy it is to take this beauty and talent and apply it to your home when it comes to custom glass.
There is very little need to go crazy with large modifications, which tend to over-exaggerate the contours and dimensions of any given room.
Start small and make subtle changes here and there.
Change your drapes. Buy new pillows. Swap out those old dirty rags and towels for new ones. Once you've done the little upgrades you can start looking at some of the bigger changes that really tie a room together.
Cover that old wooden table with a beautiful piece of custom cut glass. Swap out your framed shower doors with stylish frameless shower doors. Upgrade your patio furniture with glass furnishings. You can never go wrong with a few more mirrors placed romantically in various locations.
Glass tabletops are easy to clean and nearly scratch resistant unless you decide to test the theory of diamond resistance.
Large mirrors will dramatically increase the depth of any room in the house. Word to the wise, try not to go crazy when adding additional mirrors. Too much of anything is never good. Keep in mind that some people, believe it or not don't like to look in the mirror so this may be uninviting for some and thus make certain guests uncomfortable.
Everyone loves and beautiful, comforting and inviting backyard and patio. You can simply place a nice piece of glass on the table, or you can do what many are now doing to expand the look and feel by adding mirrors throughout your garden or yard.
Here at the Alamo Glass & Mirror Company in Dallas Texas, we specialize in all forms of replacement glass and custom cut glass for any room in and outside your home. Contact us for a consultation and know your options for making your home a little bit nicer.

© Alamo Glass & Mirror Company
Residential & Commercial Glass Products & Services in Dallas, TX
Award Winning Service Since 1943. Call for a Free Quote Today – (214) 821-2886 or submit you questions or comments below and a specialist will be in contact with you shortly.