Mirrors are an inexpensive way to dramatically change the look of any room.   Many Dallas and Ft Worth homeowners have discovered that adding a mirror to a room will brighten the room up and create the illusion that the room is much larger than it actually is.   Alamo Glass and Mirror has been a Dallas and Ft Worth leader in custom mirror installations since 1945.
Alamo Glass can cut mirrors to virtually any size or shape that a home owner desires.  Mirrors that fill up a space ( meaning fit wall to wall) will really make a difference in the look and feel of your room.  Common areas that we install custom plate mirrors in are bathroom vanities, dining room walls, entry ways, wet bars, exercise rooms, and above fire place mantles.
There are a variety of different ways that you can make your custom mirror installation
unique.  To dress the mirror up, you can apply custom beveled mirror strips in 2″, 3″ or 4″ widths.   You can also add custom shaped beveled corners that are applied to the face of the mirror.  Those customers that want something a little less formal, yet still want to add intrigue to their custom mirror installation may want to add a beveled edge to the plate mirror.
Plate mirror comes in a variety of different shades, clear, bronze and gray are the most common.  Something that has become very popular with Dallas's finest interior designers is antique mirror.  We offer a variety of different types of reproduction antique mirror with varying degrees of distortion to fit any homeowners taste and style.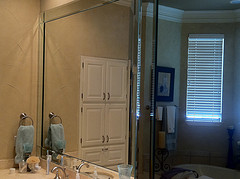 If you are worried about light fixtures or electrical outlets that are on the wall where you want you mirrors installed, it's no problem.  We can drill holes in the mirror and mount the light fixture to the face of the mirror.  For electrical outlets we can drill holes in the mirror and provide a custom mirror cover plate.
If you are wanting to change the look of an area in your home, consider having Alamo Glass & Mirror install a custom mirror.  We will help you bring your vision to reality.  Alamo Glass will send one of our estimators to your home to measure and insure a custom fit.  Our turn around time is one of the fastest in the market place.  The whole process from start to finish generally takes about 3 to 5 working days.
If you live in the Dallas and Ft Worth area contact Alamo Glass today to discuss your custom mirror project with one of our knowledgeable custom glass customer representatives today.  You will be shocked at how easy and affordable it is to remodel your room using custom mirrors.

© Alamo Glass & Mirror Company
Residential & Commercial Glass Products & Services in Dallas, TX
Award Winning Service Since 1943. Call for a Free Quote Today – (214) 821-2886 or submit you questions or comments below and a specialist will be in contact with you shortly.