Upgrading your bathroom with a new glass shower door is exciting! But it can also become daunting. Once you start researching, you could fall down a rabbit hole of options and things to consider. Don't let that happen to you! Let us help you streamline your decision process with these four simple tips on choosing a new glass shower door.
1. Know Your Space
Before you can decide which glass shower door works best for you, you'll need to take a good look at your space.
Answer these questions to help you get on the right track:
Are you adding a completely new glass shower door or are you updating an existing one? This will impact the style you choose! (see the section entitled Pick Your Style)
How much space do you really have? Measure it and write down the dimensions.
What other fixtures might you want to match? If you get a framed shower door, you might want to match it with your light fixtures or your vanity.
Which type of glass shower door is easiest to clean?
What type of maintenance is required for the new shower doors you're considering?
Related: Top 3 Ways to Use Glass to Upgrade Your Bathroom
Now that you have a better idea of what your space is like, you can get to the fun part! You can start looking for the right style and design! But before you go and do any shopping, you should have the following information written down:
The exact dimensions of your shower space
Measurements between the shower and other fixtures
Your budget
The good news is that you have so many options! There will be a perfect glass shower door for your budget, your space, and your style.
Related: Complete Guide on How to Build a Walk-in Shower from Start to Finish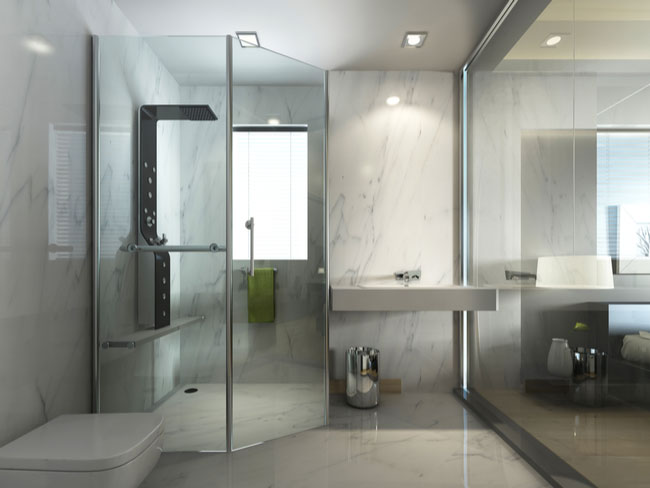 2. Select Your Style
Now that all the basics are figured out, you need to narrow down what type of glass shower door will work for you. Look at the options below and choose the one that best fits your bathroom style (and the space you have to work with!).
Framed vs. Frameless vs. Semi-Framed
One of the first decisions you'll need to make is whether you want your glass shower door to be framed, frameless, or semi-framed. A frameless shower door is sleek, modern, and easy to clean. A framed shower door is a better option if you want something functional that will keep the steam and water securely inside your shower. Not sure which to choose? A semi-framed glass shower door may offer you the best of both worlds! 
Sliding vs. Pivot vs. Bi-Fold Glass Shower Doors
You may not know it, but you can have your glass shower door open in a variety of ways. A sliding shower door is a great option because it takes up minimal space and doesn't get water everywhere. A pivot door swings outward and is optimal for a narrow shower stall. A bi-fold door folds in on itself, which is a great option for small bathrooms.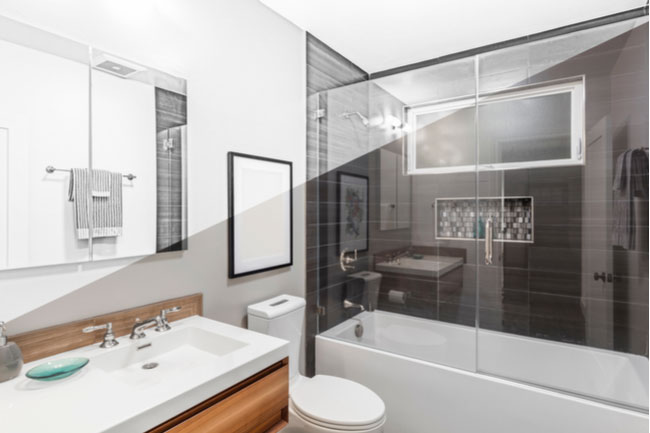 Standalone shower vs. Tub Enclosure
Depending on the space you have available, you can select a glass shower door with a standalone shower or a tub enclosure. If you have the space for it, a lot of people opt for a shower and tub combo.
Did we mention? Be sure to measure your space! Use the width at the widest point. You need to know the exact dimensions of your space before you make any decisions! For best results, we recommend you contact a professional at Alamo Glass & Mirror to assist you with this process.
BONUS TIP: Keep in mind that there are more options and upgrades available. Consider a partial enclosure or a walk-in shower for a really modern look!
3. Choose Your Glass
Your next design choice involves selecting the style of your glass and whether you want any special designs on it.
Consider these questions:
Is privacy the most important thing to you? If so, consider going with frosted glass or adding a feature or design on the glass shower door.
Is style the most important thing to you? If so, consider going with clear glass to give your bathroom a sleek look.
Make sure you see examples before you buy, especially if you're going with a design. After all, you want to love your new look for years to come, right?
Related: Privacy Glass for bathroom designs
4. Match Your Finishes
One last design element that you may want to consider is what kind of finishes you already have in your bathroom. It's important to keep something like this mind if you want your glass shower door to match the other finishes, such as light fixtures or your vanity.
There you have it! We've covered four easy tips to help you choose your new glass shower door.
Do you live in the Dallas, TX area? If so, we would love to help you find the right glass shower door for you! Call us at (214) 821-2886 to get started.

 Alamo Glass and Mirror is a full service residential and commercial glass company. We have an extensive inventory of glass and glass related products.
© Alamo Glass & Mirror Company
Residential & Commercial Glass Products & Services in Dallas, TX
Award Winning Service Since 1943. Call for a Free Quote Today – (214) 821-2886