If you are like most of us you are looking around your aging home thinking where do I start? One way to instantly add value to your home is in your bathroom. The time has come to remodel your shower, so let Alamo Glass and Mirror help! Make your bathroom a tranquil spot where you can go to relax.
We have been providing custom glass for over 65 years, our employees are trained professionals who can help make your remodel an easy process. We offer custom shower enclosures in frameless and semi-frameless. No matter your budget for your 2012 renovation, we can help design a shower enclosure that will make your home look and feel instantly like a million bucks! . The frameless shower enclosure lets the focus stay on your tile work, by using very minimal hardware for a beautifully clean update to your room.
We are proud to say we are registered dealers of ShowerGuard Glass. They offer a  LIFETIME WARRANTY on their products.  Normal glass overtime, can become foggy with buildup due to water, soap-scum  and other factors.  ShowerGuard glass is sealed during manufacturing to keep the glass looking new for years longer, with very minimal cleaning.  Think of ShowerGuard products  similar to your teflon pan. Water just rolls off of the pan, why shouldn't your shower glass be the same way? If you don't believe me, click here to be directed to their website and learn more about the products they offer.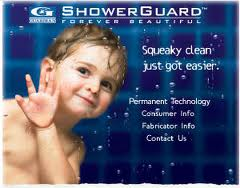 We offer warranties on all our products, and we   now offer a two year custom shower enclosure warranty, read more about it HERE. We also have an exclusive offer on our website- GET $125.00 OFF ANY MULTI-PANEL CUSTOM SHOWER ENCLOSURE!!!!!!!
A deal like that won't last for long, so contact us today!