Everyone knows that glass shower doors and enclosures are a more efficient way of keeping water inside your shower and add beauty and value to your home.
Did you know that glass shower doors also create a healthier home? 
Alamo Glass & Mirror installs many glass shower doors in Dallas, and are proud of the fact that our shower door installations are providing many health benefits and relief to allergy and asthma sufferers.
According to BEMA (Bath Enclosure Manufacturers Association) glass shower enclosures create many health benefits. Bath enclosures are a highly effective means to retain steam in the shower.  Doctors often recommend steam as a home remedy to ease congestion, sore throats and coughing due to colds, allergies, asthma, sinusitis, influenza and pneumonia.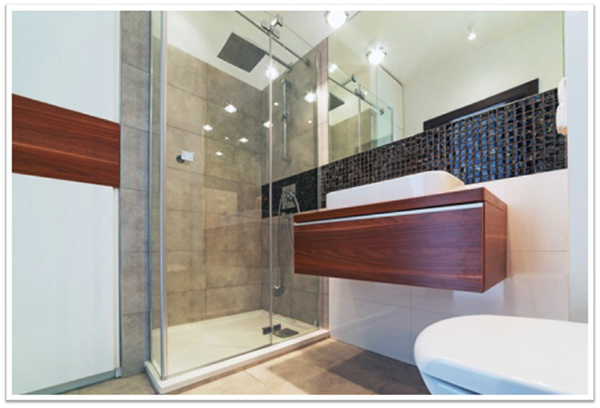 Harvard Medical School assistant professor and asthma sufferer, Dr. Michael Segal, suggests using steam showers to clear allergens and mucus out of the lungs.  The Segal  Guide to Asthma notes that people with asthma can create a steam shower at home by using a steam generator in conjunction with a bath enclosure.
According to Dr. Segal, and enclosed bath or shower is the best way to retain steam.
Doctors recommend that pregnant women who have colds or allergies take showers and inhale steam in order to relieve their symptoms rather than taking medications, even those available over the counter. In the December '98 edition of AMA's Health Management Bulletin, doctors suggest that inhalation of heated, humidified air, or steam, may serve as an effective home remedy for:
Soothing irritated airways
Improving airway hydration
inhibiting the replication of rhino virus, the cause of 1/3 of colds in adults
Helping relieve respiratory ailments
Preventing the drying of nasal passages
Dermatologists also recommend steam treatments as part of their clients beauty regimens since steam opens pores, releases toxins and enhances circulation of blood to the skin creating a healthy glow. Water leaking from between gaps between the shower curtain and the shower wall can result in significant water damage over time, especially for bathrooms located on a second story.
Water damage is the most common trigger for growth of stachybotrys, a toxic mold that can cause allergies, asthma and skin rashes.  In some strains, stachybotrys can even cause damage to the lungs and central nervous system- even death. Exposure to mold is a risk factor for asthma, a health issue that affects the lives of more than 14 million Americans.
If you or any of your loved ones suffer from any of the symptoms listed above, do them a favor and tell them about the benefits that can be gained by having Alamo Glass & Mirror provide and install a glass shower door in your home.
We offer many different types of shower enclosures in all price ranges. 
Both our framed and frameless shower doors are available in a variety of metal finishes and glass choices sure to meet anyone's design criteria.  If you would like to know more about our shower doors or any other glass and mirror products and services that we offer, contact us today or stop by one of our Dallas, Texas showrooms and speak to one of our customer representatives.

Alamo Glass and Mirror is a full service residential and commercial glass company. We have an extensive inventory of glass and glass related products.
© Alamo Glass & Mirror Company
Residential & Commercial Glass Products & Services in Dallas, TX
Award Winning Service Since 1943. Call for a Free Quote Today – (214) 821-2886