Alamo Glass & Mirror has been the preferred glass shower door installer for Highland Park residents for over 65 years.  In fact, many of you may not know that Alamo Glass & Mirror has also been referred to as Highland Park Glass & Mirror and that name is registered with the city of Dallas.   Our showroom  Is located in very close proximity to Highland Park and is open 6 days a week for homeowners to come and look at the different types of frameless shower doors that we offer.
More and more Highland Park, Tx residents are improving the looks of their home with a custom frameless shower door installation.  With the many hardware and glass options available, a frameless shower door can be designed to match any homeowners taste or style.
Alamo Glass & Mirror services the entire Dallas and Ft Worth Metropolis.  Contact us today to set up a free estimate and see why we are the experts when it comes to shower door installations.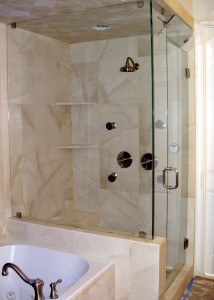 Don't forget to enter our "Please Replace My Shower Door" contest.  We are giving you the chance to win a 100% Free custom frameless shower enclosure.