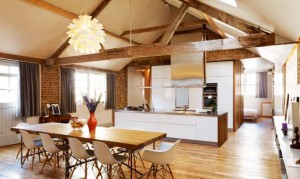 More and more architectural plans are based on an open concept layout. Whether remodeling or building fresh, architects are tearing down the walls. For these modern designs, separations between rooms are becoming obsolete. These large open spaces take some of their inspiration from urban artist lofts; basically, uncluttered, vast open spaces. Architects are designing homes with kitchens without barriers, making them part of the dining room or living space, and bathrooms without walls joined to master suites. And where walls are still desired glass is often the material of choice. Custom glass walls and ceilings let the light pour through and add to the feeling of freedom. A frameless shower door enclosure is an essential in an open concept layout.
The open layout plan gets even more daring and open when the outdoors is brought inside, or vice versa. To include nature inside, designers are not only tearing down walls, but ceilings, as well. Of course, a ceiling-less bathroom works best in areas with predictably warm climates. The materials used in these open air bathrooms are those which can withstand the elements; stone, treated wood, and marble. For those people who live in an intemperate zone and need protection from the elements, a glass ceiling and walls can bring the beauty of nature inside while leaving the rain and snow outside. For instance, a room encased in glass within a private garden. With a bathroom like this you will feel as if you are showering in a greenhouse.
Interpreting Privacy in a Whole New Way
People accustomed to complete privacy may take a while getting used to showering in one of these outdoor/indoor bathrooms. In truth, many of these bathrooms only give the illusion of being non-private. They are often built within a walled off courtyard or garden which can only be accessed from the bathroom. But for some of these open and airy bathrooms the lack of privacy is real and intended. For the adventurous souls who wish to hide nothing from their spouse, there are truly wall-less bathrooms with frameless shower doors.
Vacation homes, particularly those nestled in beautiful landscapes, are the perfect places for an experimental bathroom. A bathroom which invites in the scent of pine, or a refreshing island breeze, or the sound of the waves crashing will only add to the spirit of a getaway home. Some homeowners choose to have both an outdoor and indoor shower back to back with only a glass wall separating them. Which shower is used can depend upon the weather.
Walls of Glass
With open layout plans sometimes eliminating all barriers is impractical. When walls need to be erected the material of choice is often custom glass. Custom glass is the closest thing to having a wall-less environment. Glass lets the sunlight pour in, and it also allows you to take advantage of magical views of woodlands, or desert, or ocean. If you are remodeling and considering a daringly open layout, then don't stop at the shower stall, choose a frameless shower door for crystal clear freedom. Our Dallas showroom can help you with all of your glass needs.