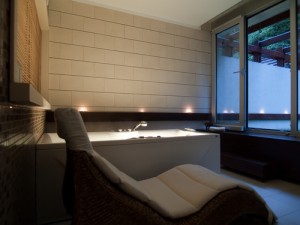 Many people are finding inventive new ways to arrange large bathroom spaces. Some people are turning their bathrooms into entertainment centers complete with fireplaces, refrigerated cabinets for chilling wine, television sets, music systems, wall paintings, and small libraries. Of course, these types of bathrooms really need crystal clear glass showers so bathers can enjoy unobstructed viewing of all the amenities. That's where our experts in Dallas come in, they can help you choose the perfect frameless shower door.
Another trend leans towards making the bathroom into your own private gym space. Instead of a leisurely, winding-down room these bathrooms are outfitted with equipment to get your heart rate pumping.  Stair-climbers, ellipticals, rowing machines, even large treadmills are finding their way into these bathrooms.
Saunas & Spa Baths
A couple of add-ons that fit the exercise theme; saunas and jet powered spa baths. A sauna can help soothe aching muscles and  flush toxins from your system, while a spa bath can relieve stress with massaging jets. Both make perfect followups to a strenuous workout. In fact, what better way to end an exercise session than with a quick trip to the sauna followed by a refreshing shower to wash away the sweat.
Neutrals & Chrome
A workout room suits a bathroom with a sleek modern appearance. Large spaces of cream-colored tiles, pale walls, and wood cabinetry with purpose. For instance, ceiling high shelves loaded with plush towels, or a glass fronted cabinet stuffed with aromatic blends and herbal infusions for a revitalizing, hydrotherapy bath. A no fuss setting, as you would expect to find in a gym, is probably the best approach to one of these gym/bathroom combination rooms. Taking the personal gym one step further some homeowners are including a wall mounted waterproof LCD set to give them something to occupy their minds as they ride their stationary bike or run the treadmill.
The Ultimate Layout
Depending on the amount of space available the workout equipment can be separated from the rest of the bath behind a glass wall or perhaps a waist high barrier. Some people prefer a more wide-open approach with no barriers to slice up the space, and the equipment out in the open. A spacious open floor plan lends itself to a doorless recessed shower with perhaps only a panel of glass to keep water from making the tiles slippery. An exerciser can step off the exercise equipment, toss his or her clothes in the hamper, and walk right into a multi-spray shower for the ultimate showering experience. A surround shower system, though once considered a luxury, is becoming a common addition for new, upscale home construction projects. It is also becoming a popular choice for those remodeling their bathrooms.
A personal workout room with gleaming tiles, chrome fixtures, and a crystal clear glass shower stall, provides the perfect excuse for both a weekend warrior and a gym rat to stay home. Our Dallas showroom can help you turn an ordinary bathroom into an extraordinary one with beautiful glass walls and frameless shower enclosures.