You're loving your new glass shower doors. We get it, they're awesome. But you want to make sure that you keep them clean. Glass shower doors are actually easier to clean than you think. You can keep them looking sleek for years if you regularly clean them and proactively prevent water spots.

Prevent Water Spots on Your Glass Shower Doors
First and foremost, prevention is crucial. You don't want water spots or build up to accrue because it'll be that much harder to clean. To avoid that, after each shower you should:
Use a squeegee
Keep your shower doors open
If you do both of these, it will ensure that mold and mildew won't grow. Using the squeegee will help eliminate the damp environment and leaving the door open will air out your glass shower doors.
Related: Complete Guide on How to Build a Walk-in Shower from Start to Finish
Regularly Clean Your Glass Shower Doors
Even if you follow our tips on prevention, you'll want to regularly clean your glass shower door to avoid any major problems in the future.
Using a simple homemade solution can help. Just mix the following ingredients in a spray bottle and use it daily:
3 tablespoons of lemon juice
1 cup of distilled water
Many people love using distilled vinegar and dish detergent. This mixture is slightly more acidic and will help remove any buildup that's already on your glass shower door. Mix equal parts of the following and use the solution daily:
Distilled vinegar
Dish detergent
But before you use any cleaner (homemade or store bought), make sure it's safe to use on your surfaces! For instance, if your shower is made of stone, vinegar could damage it. Instead, you can use the lemon solution or use soap and baking soda.
For any solution that you use, you'll want to make sure your sponge is a not a scratch sponge. Use a soft sponge or a microfiber cloth works well, too.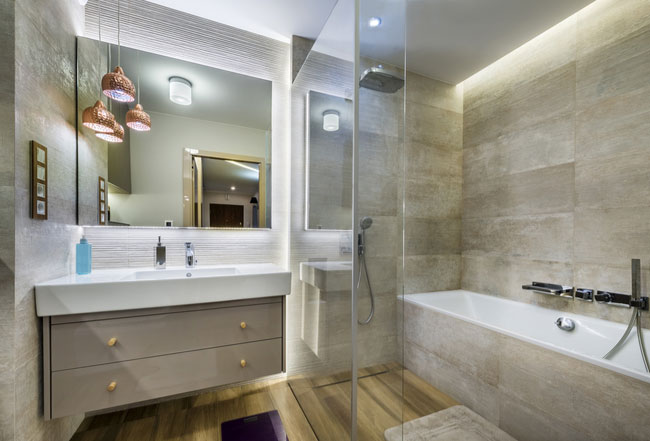 Using one of these formulas after every shower will keep your glass shower door sparkling.
To avoid buildup, use these two tips:
Clean your shower when you finish using it. The warm water already loosened the grime, making your job that much easier. Just use a sponge or Magic Eraser.
Use a toothbrush or paint scraper for those troublesome spots near the crease. Make sure to hold it at an angle to avoid scratching the glass.
Related: Top 3 Ways to Use Glass to Upgrade Your Bathroom
How often should you clean your glass shower doors?
If you do the regular maintenance above, then you should only need to do a deep clean every few weeks.
But guess what? We've built out a schedule for you to make things as easy as possible:
Daily: Squeegee, leave door open, and spray with the homemade solution (or just wipe down with a sponge if you're cleaning it right after using the shower).
Weekly: Give the shower a wipe down with a Magic Eraser.
Monthly: Deep clean. Scrub the whole shower and whip out your toothbrush or paint scraper to reach the troublesome spots.
Cleaning your glass shower door doesn't have to be hard! As long as you regularly maintain it, your glass shower doors will look new for years.
Do you live in the Dallas, TX area? If so, we would love to help you find the right glass shower door for you! Call us at (214) 821-2886 to get started.

Alamo Glass and Mirror is a full service residential and commercial glass company. We have an extensive inventory of glass and glass related products.
© Alamo Glass & Mirror Company
Residential & Commercial Glass Products & Services in Dallas, TX
Award Winning Service Since 1943. Call for a Free Quote Today – (214) 821-2886