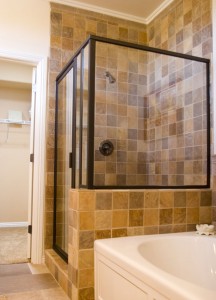 Over time, Shower door glass  will accumulate soap scum, this is a fact but proper cleaning is necessary to keep the glass looking as beautiful as the day Alamo Glass installed it. We recommend a few simple tricks as outlined bellow:
Always wipe down the glass after every use. This may sound like a lot of work, but it will eventually become a habit. I do not mean you have to use glass cleaner and wipes, simply use a squeegee after you are finished taking your shower. Once I get out of the shower I wipe down the glass with my damp towel, this works as well.
I would recommend using glass cleaner and paper towels once a week.  Any cleaner for glass should work well. We offer an excellent glass cleaner here in our shop , made by one of our manufacturers CRL.  Stop by our showroom to purchase some. Your favorite glass cleaner will work also.
Here is a link to TLC's website, they give more advice on how to clean your bathroom, including glass.
Still having trouble removing years of water and soap scum? Contact Alamo Glass today and we will give you an estimate on replacing your shower glass.  If you are looking for minimal cleaning, ask us about Showerguard Glass today.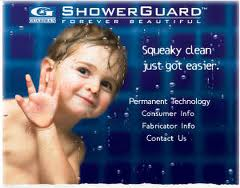 © Alamo Glass & Mirror Company
Residential & Commercial Glass Products & Services in Dallas, TX
Award Winning Service Since 1943. Call for a Free Quote Today – (214) 821-2886 or submit you questions or comments below and a specialist will be in contact with you shortly.