Shower glass comes in a variety of colors, patterns, and textures. Glass in its traditional state has a greenish tint which is the result of the iron used in the manufacturing process. The greenish tint, though subtle, adds a splash of color from the cool end of the color spectrum. If you like the idea of a tinted glass, but prefer a shade that is more dramatic then you might want to consider a rich bronze or a smoky gray tinted glass. A dark, sultry tint can add glamour to your bathroom. For a frameless shower, you will want hinges and handles in a dark metal such as bronze to match the hue of the glass and make the shower installation appear seamless.
If you love the color of your shower tiles and your fixtures complement those tiles to perfection then you might not want the shower interior obscured by tinted glass. Because iron is the substance which gives the green hue to standard glass, less of the metal is used to produce tint free glass. The result is crystal clear glass. Combine this sparkling glass with a frameless enclosure and your shower will be open and airy.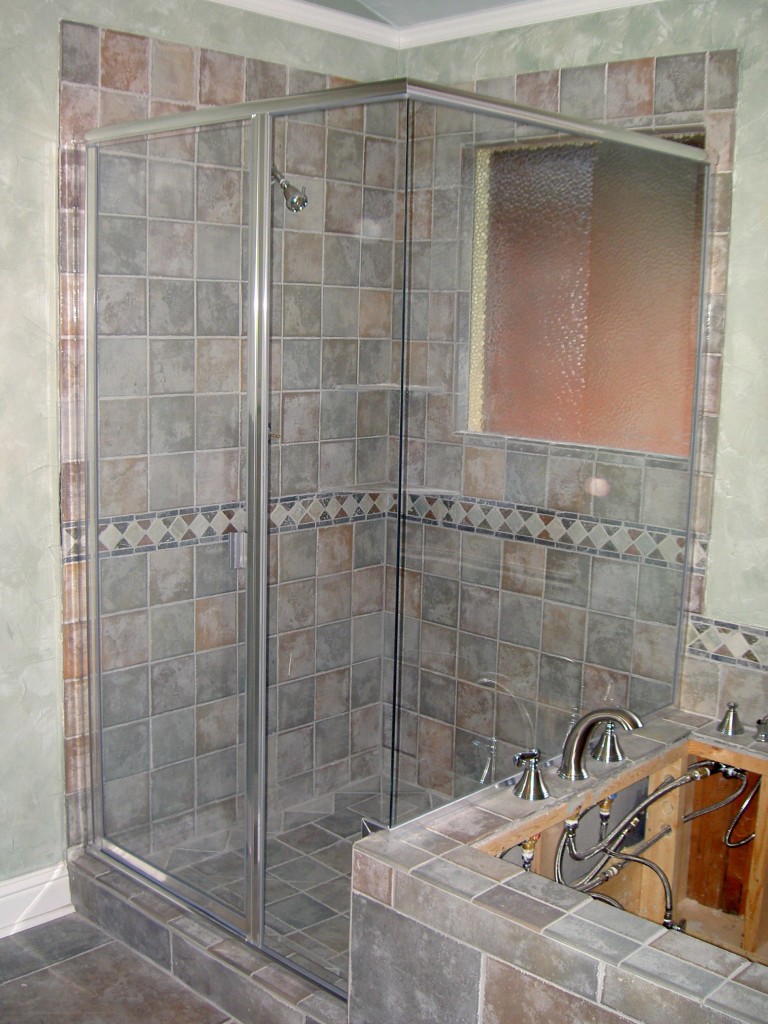 For some people clear glass is just a little too clear. Acid-etched or frosted glass has a satiny finish which allows in a diffuse, mellow light while affording privacy. Sandblasting is another way of achieving a frosted look. Practically any pattern you can imagine can be etched on glass. For a bathroom with antique accents you might consider Victorian wallpaper inspired patterns. Stripes, floral designs or repeating ornate patterns will enhance and reinforce the vintage look. For a child's bathroom the shower door could be sandblasted with fantasy or fairy-tale murals. The pattern is usually on just the outside of the glass and the inside is smooth for easier cleaning.
Though frosted glass will give you privacy, it does have a drawback. The opacity of the frost will diminish the light that can penetrate the shower stall. To compensate you can have light-emitting diodes (LED lights) placed in strategic places within the stall, for instance in the ceiling and even embedded in the shower walls. Think a sexy, red ambience, or the cool aqua of a waterfall. Or consider having a strip of red, green and blue LED lights installed along with a color driver and you will have a rainbow of colors at your fingertips. If you are going with the vintage theme then you might consider installing a gaslight inspired sconce outfitted with a glowing LED light. Because you can buy waterproofed LED lights you can put the sconce directly inside the shower.
If you like the look of rain streaming down a window, rain glass duplicates that effect. This textured, rain-beaded glass offers some privacy. Rain glass, because it evokes the poetry of nature, looks beautiful set against tiles made from rock such as slate and marble.
Casting is another glass producing process. The glass is molded into raised abstract patterns such as swirls or geometric designs or objects in nature such as fish or plants. With casted patterns, if you run your hand over the glass you can feel the pattern. Because of the sculpted look of this type of glass it has an artistic presentation.
We invite you to visit our Dallas showroom to see just how beautiful and varied glass can be.