Are you considering remodeling your bathroom? There are new trends to consider. One is opening up the shower area. Instead of the small utilitarian, framed-in shower most homeowners are familiar with, the new trend is to have a spacious tiled area enclosed by frameless shower doors.
Another, even more minimalist trend, is a walk-in shower with only a single glass partition separating the bather from the rest of the bathroom. Sheets of glass without the usual framing are modern. Here in Dallas our glaziers can custom cut glass to fit any project.
Skylights and adding or enlarging existing windows will let the light pour in. Using the same monochromatic tile throughout, from walls to flooring and even the ceiling, will create a feeling of serenity and space. Neutral tiles or tiles that have coloring taken from nature such as, the cool paleness of a frosted lake or the subtle gray of slate will make for a restful ambiance.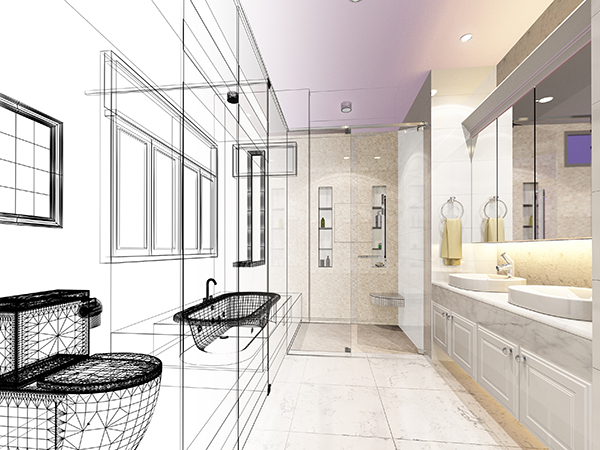 In fact, many people are opting not just for a color palette that mimics nature, but for nature itself. They are choosing to use natural materials in their bathroom design. Slate, marble, sandstone, and granite are just a sampling of the stones being used for countertops. And pressed leaf tiles, which actually have a real leaf beneath the glazing, are used as the occasional accent on a wall of glass or marble tiles.
Cabinetry is changing as well, some people are moving away from painted or varnished furniture to vanities and cupboards built of wood still in its natural rough state, or recycling wood from old buildings to get a rustic and weathered look. And wood is not just for cabinets any longer, which brings us to the next trend–soaking tubs.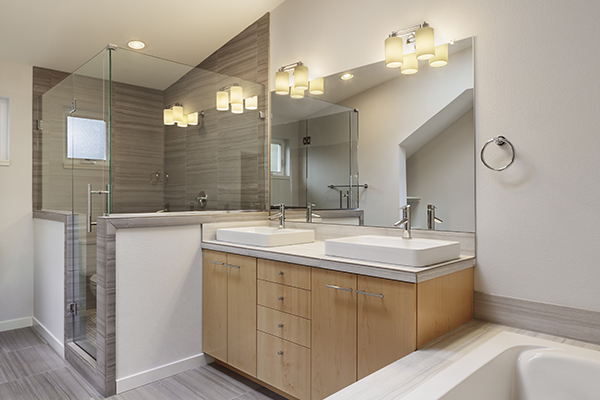 Wooden soaking tubs or ofuros hark back to ancient Japan. Soaking in an ofuro is considered therapeutic. An ofuro tub is deep, with tall walls, that allows the bather to melt away their stress in a steamy retreat from the world. Because of their newfound popularity in the U.S., manufacturers have made soaking tubs available in a variety of materials from the traditional wood to stainless steel. Some of these tubs are meant for lounging in while others are for sitting. If you don't have the space to accommodate a large ofuro, yet you would still like the soothing benefits of this type of bath, then consider a smaller tub meant for sitting.
For some people their garden doesn't just stop at the window's edge. They are surrounding themselves with potted plants and turning their master bath into a retreat. African violets, ferns, and certain lilies are a few of the plants which thrive in the bathroom.
Sunlight, glass, nature, neutrals these are keywords to remember while designing today's contemporary bathroom. For windows think larger, for colors think soothing, for glass enclosures think frameless and for bathtubs think calming. Our experts in Dallas can help you turn your bathroom into a peaceful oasis.

Alamo Glass and Mirror is a full service residential and commercial glass company. We have an extensive inventory of glass and glass related products.
© Alamo Glass & Mirror Company
Residential & Commercial Glass Products & Services in Dallas, TX
Award Winning Service Since 1943. Call for a Free Quote Today – (214) 821-2886