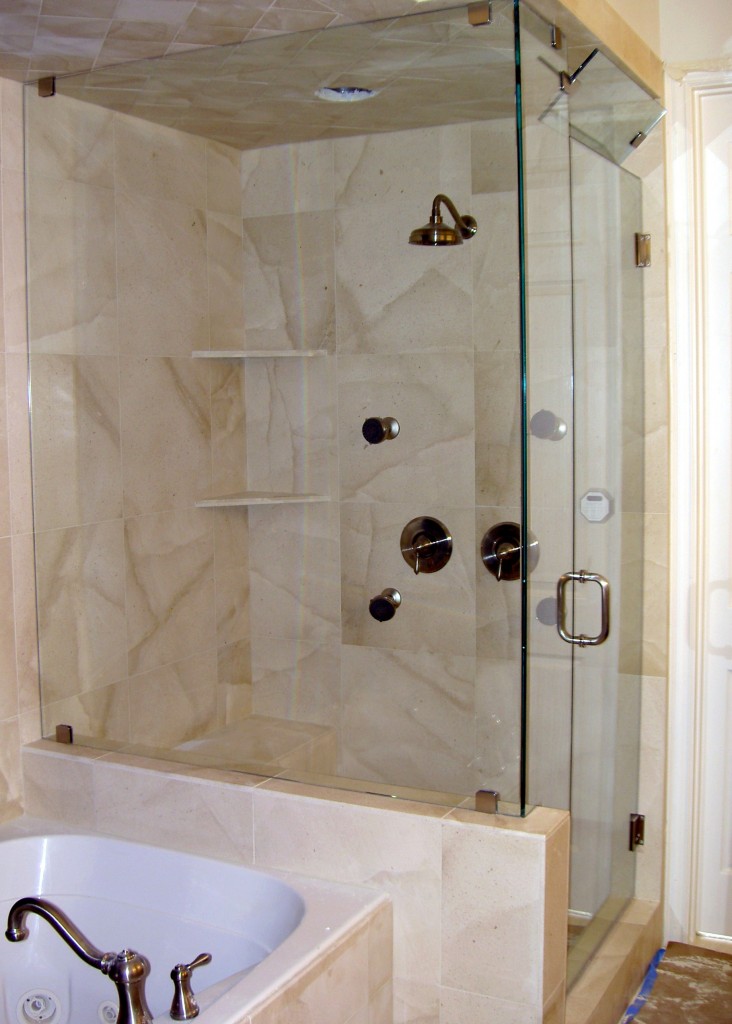 Imagine sunlight pouring in through the windows of your master bathroom and bouncing off the sparkling tile or gold-veined marble of your shower stall. Or envision yourself showering behind crystal clear glass while enjoying the view of the roses blooming in your secluded garden.
A frameless shower door offers all that and more. It allows in the natural light, enlarging and making the bathroom appear more spacious. And the crystal clear glass not only allows an unobstructed view of the out-of-doors, but showcases the tile or mosaic work inside the stall.
Add a skylight above the shower stall and brighten the bathroom even further. Our Dallas location offers highly desirable frameless shower doors.
Minimalist and elegant, a frameless shower can enhance and modernize any bathroom. There is so little metal used in the construction of a frameless shower door that the effect is one of translucency and brightness.
Framework is normally necessary to support the glass of an ordinary shower door, but the tempered glass that is used in a frameless door is thick enough to stand without the need of framework. The brackets and hinges that are used are as sleek and unobtrusive as the glass.
There is no reason to be concerned about the safety of a frameless shower door. It is constructed of tempered glass, which is safety glass. In the case of an accident it will crumble rather than breaking into dangerous shards. The glass used in a frameless enclosure is strong enough to be used for all four walls.
If you are thinking of a way to make your small, dark bathroom appear larger and brighter, consider surrounding your shower with walls of glass. Suddenly, the shower area is no longer hidden behind textured glass and aluminum framework, the new glass allows that corner of the bathroom to become part of the room.
If you require a custom enclosure, then the expert glaziers at Alamo Glass will build one to your exact specifications. We offer over 20 metal finishes to choose from, and glass in a wide variety of styles; etched, frosted, textured, decorative, and patterned. You might consider complementing the color scheme of your floors, walls, and tiles by choosing a glass to match in amber, sea green or blue. In addition, the door can be fitted on the right or left, or to swing in or out, an option not usually available with conventional frames. And without all that aluminum framework to get moldy or spotted with hard water deposits, the frameless shower is easy to maintain and keep sparkling.
Replace your old hazy glass and aluminum frame with a sleek frameless enclosure and suddenly you may very well have a brand new room. And modernizing the bathroom can only help to increase your home's value. Prospective buyers appreciate a modern, well lit bathroom.
Of course, a frameless shower enclosure can be more expensive than more conventional models, but because of the sturdiness of the glass it should last longer, require less upkeep, and put your bathroom in the best light. Interested in frameless shower doors in the Dallas area? Give us a call!

© Alamo Glass & Mirror Company
Residential & Commercial Glass Products & Services in Dallas, TX
Award Winning Service Since 1943. Call for a Free Quote Today – (214) 821-2886 or submit you questions or comments below and a specialist will be in contact with you shortly.