Remodeling your home? Looking to update your bathroom? When you decide to upgrade to glass shower doors, you have a lot of decisions to make and might not know where to start. You have to think about everything from the type of door to the actual design you want, and how it will look in your bathroom.
One of the main questions you'll need to ask yourself is whether you want clear or frosted shower doors. But don't stress. Below are a few pros and cons to help make your decision a little bit easier.
Clear Glass Shower Doors
Pro: Enlarges your space
One of the main reasons that homeowners decide on clear glass shower doors is that they want to have an open and modern design. With clear glass, your whole bathroom will look larger; no matter how small the space.
If your bathroom lacks natural light clear glass is a good way to go.
Con: Lack of privacy
If you have a bathroom with several users, clear glass doors might not be as functional due to the lack of privacy. If several people need to get ready at the same time (i.e. in the morning before work or school) then a clear glass shower door won't work as well as frosted.
Just something to consider for what works best for your household and your routines. Frosted glass doors are a great option for Jack and Jill bathrooms that multiple siblings share.
Pro: Brightens your bathroom
A clear glass shower door will make your bathroom look much lighter and brighter, especially if you have windows. Without any obstruction to the light, the whole atmosphere appears more open with clear glass.
If you have a small bathroom opting for light paint colors and tiles, and a clear glass door will help the small space feel larger.
Con: More cleaning
With clear glass, you might have to clean your shower door more often as water spots will be easier to see. However, if you clean your shower after every use with a squeegee (that you can keep in your shower), you can ensure your glass shower door looks brand new for years.
Pro: Modern, trendy design
Clear glass is also a very popular shower design currently. Not only is it trendy at the moment, but it has a timeless look that won't go out of style. So, if you're looking to increase the value of your home or are considering selling in the next few years then clear glass would be the preferred way to go.
Overall:
Clear glass shower doors are a great sleek and modern design to upgrade your bathroom. They make your bathroom look larger and brighter no matter it's size.
However, you may have to clean it more and it might not be as functional, depending on how many people will be using it. If you're interested in the most updated look for your bathroom to increase property value then clear shower glass should be your choice.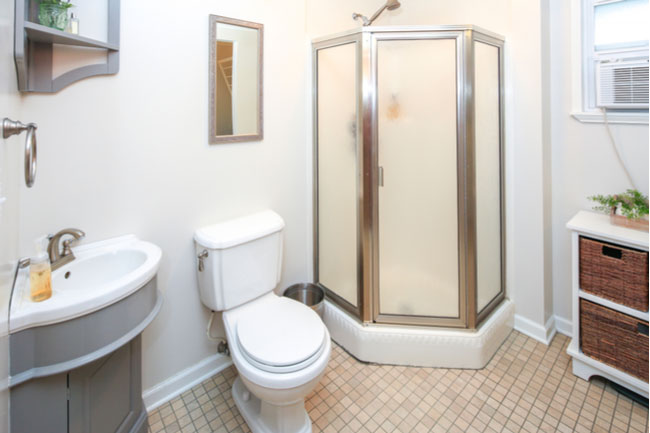 Frosted Glass Shower Doors
Pro: Functional and private
Unlike clear shower doors, a frosted door will preserve your privacy and functionality if your bathroom has many users at the same time. This would work well for smaller homes with one bathroom and multiple children.
Con: Makes the bathroom look smaller
Frosted doors close off the sightlines and can end up making your bathroom look smaller than it actually is. This is best used in larger bathrooms.
Pro: Several design options
One of the best parts of frosted doors is that there are several glass design options you can choose from. You can select rain glass, textured glass, or even etched glass to meet your preferences.
Con: Darker atmosphere
Since frosted shower doors block off sightlines, there isn't as much light in the bathroom. It ends up making your space appear darker overall so be thoughtful with your selection.
Pro: Less cleaning
A frosted shower door will hide many water spots, so you won't have to clean your shower as often. This could be great for those who lead very busy lives and don't have time to clean regularly.
Overall:
Frosted glass shower doors are very functional and can be easier to maintain than clear glass. However, they can make a bathroom appear smaller and not as bright.
So you ask which is better? Frosted glass or clear glass doors? Ultimately, the decision is yours. This choice depends on your bathroom, the people using it, and if you want to keep your home the most updated to sell in the next few years.
For master bathrooms, clear glass is definitely the way to go. But for your sibling/guest bathrooms that have several users, frosted glass is a great option to consider. Which one is it for you?
---

Do you live in the Dallas, TX area? If so, we would love to help you find the right glass shower door for you! Call us at (214) 821-2886 to get started.
Alamo Glass and Mirror is a full service residential and commercial glass company. We have an extensive inventory of glass and glass-related products.
© Alamo Glass & Mirror Company 
Residential & Commercial Glass Products & Services in Dallas, TX
Award-Winning Service Since 1943. Call for a Free Quote Today – (214) 821-2886