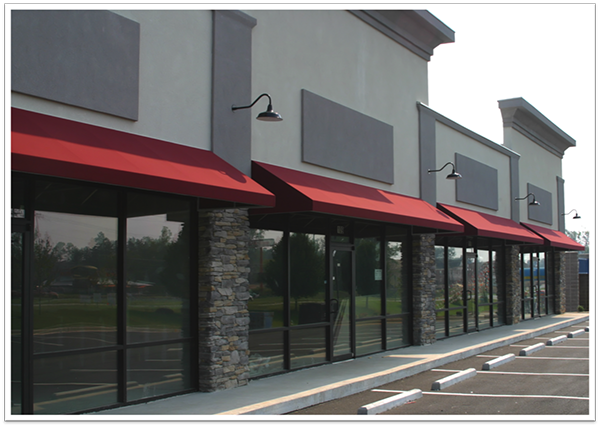 Homeowners looking to upgrade the appearance of their home will often have new windows installed. New windows act as a sort of facelift for a house. Besides paint nothing else can so quickly transform the look of your home. The right windows can help to modernize and enhance the architectural design. The same is true for storefront windows.
Glass can have a similar transforming effect on a business building. A storefront of glass is not only sleek and attractive, it welcomes in natural light.  Walls of glass let strolling customers window shop with ease. Showcased products will lure customers inside, and the welcoming sunlight filtering into the store will keep customers shopping. Imagine a clothing store with a front of glass. The store owner will have the window space to display their latest seasonal line to advantage.
Glass fronts on hair salons can be ideal if you are looking to setup a modern, airy, light-filled salon. A glass storefront seems a natural for certain food establishments such as bakeries and candy shops. Customers can enjoy checking out displays of the latest in tiered wedding cakes or bins piled high with colorful sweets. Jewelry stores, art galleries, antique shops, would all benefit from glass storefronts. If you have a product with visual appeal let the customers see it.
Even non-retail establishments can benefit from a glass front. Most workers go to a sterile office environment and work under artificial lights. Office buildings that allow in natural light are definitely friendlier places to work.
As an added bonus, natural lighting can cut your electric bills. Though sunlight is welcome the heat it brings can often be unwelcome. If your building gets too much direct sunlight, you might consider having tinted glass installed. Tinted glass offers sun protection to cut the heat. It can also stop your displays from fading.
The first step to putting a new, elegant face on your business is a consultation. We would be happy to show you how we can give your storefront an upgrade. After the plans are developed, then our expert glaziers go to work. Our highly-qualified craftsmen will produce and custom cut glass to fit your building's unique dimensions. Even after installation we are here to serve you. We offer a 24 hour, 7 days a week emergency service to repair cracks or if the damage is more extensive board up the window until a new pane can be produced and installed.
What if your business already has a glass storefront, but the windows are dingy and old looking? A cloudy glass defeats the purpose of having a wall of windows. Let our glaziers do their magic and bring back the sparkle to your storefront by replacing those old windows with our beautiful gleaming glass.

© Alamo Glass & Mirror Company
Residential & Commercial Glass Products & Services in Dallas, TX
Award Winning Service Since 1943. Call for a Free Quote Today – (214) 821-2886 or submit you questions or comments below and a specialist will be in contact with you shortly.